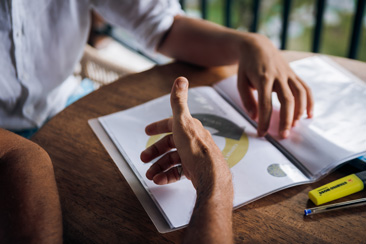 We have a passion for supporting professionals across all sectors. We have the ability to adapt content and services to cater for the needs of individuals and organisations. Learning opportunities can be structured for flexible delivery that provide the best possible outcomes for our learning partners.
Mindfulness skills are scientifically proven, essential tools for effective self-care and wellbeing. It has been proven to enhance focus and effectiveness in challenging roles in many diverse professions, ranging from CEO's of companies, professional sports people, doctors, paramedics, teachers, nurses and IT professionals.
Mindfulness tools are essential for the evolution of great teams in small and large organisations. They provide the ability to understand your role and your individual strengths or challenges so as to allow you to be present in all interactions. This presence provides opportunities for essential planning, empowerment and communication to occur so that positive outcomes are achieved by individuals for their teams.
The tools of mindfulness provide the flow which is required for success, removing the roadblocks that often diminish the effectiveness of individuals and teams.
1:1 COACHING OR GROUP COACHING
Available in person or online to empower new skills to take action towards understanding yourself and being part of fulfilling productive, efficient and dynamic teams.
PROFESSIONAL DEVELOPMENT WORKSHOPS/ PRESENTATIONS
Available in Bali, online or in other countries upon negotiation. Our workshops are prepared to meet your particular needs. We focus on the challenges facing teams with regards to communication, relationships, ego, and possible solutions. We provide tools to enhance the effectiveness and productivity of teams, whilst focussing on individual wellbeing as the basis for a thriving work environment. Please message us via our CONTACT US page.